Click on the tabs below for more information and schedules for the
religious education programs for middle and high school students.
Religious Education classes are held at St. Joseph School from September to May.
See the calendar for details.
Click here for the Grade 9 schedule.
Grades 7 - 10
6:45 pm - 7:45 pm
Grades 11 & 12
LAFF Group - see LAFF tab
Click here to view this information in a downloadable/printable version.
*Classes are at 6:45 pm unless noted otherwise*
Classes will be on these dates unless notified by teachers. Classes will include zoom and in person. We will review Confirmation, Gifts of the Holy Spirit & Fruits of the Spirit. Talks from Father Mike Schmitz about struggles, building relationships with God. Possibly Fr. Cole Casey on Why Be Catholic ?All online options. Feed My Starving Children in Eagan, Ash Wed. Mass you can read, usher & greet for. A Letter to Father and other info was due in Spring 2021. A Retreat night in October and Mass of course with your family.
Sep.15th Relationships/interviews/expectations/barbecue in Park with LAFF & GR. 11
Sep. 29th Class 1-
Oct. 13th "Fields of Faith" in Hastings. Bus leaves 6:00p and returns about 9:00p. Permission slips necessary.
Oct. 27th Retreat night, 6:30p to 8p in Gathering Space for parents and students of grades 10. Speaker Michael Strande: "Symbols and Rituals of Our Faith"(scheduled)
Nov. 3rd Class -
Nov. 17th Class-
Dec 1st Class- Make Blankets for Care Center
Dec 15th Class- Care Center: parents drop students at Care Center and pick up. Students deliver blankets and play Bingo. Depends on Flu and Covid season
2022----
Jan.5th Speaker: Andrea from TLC Center in Hastings, 6:45p-7:45p(Tentative speaker)
Jan. 19th- Class-
Feb. 2nd Class -
Feb. 16th Class-
March 2nd - Ash Wednesday Mass at 7p
Mar. 16th Feed My Starving Children. Bus leaves 5:15p and returns about 8pm
Apr. 6th Stations of the Cross 7p in church
Apr. 20th Class "Come, Holy Spirit," a close look at the sacrament. Is everything in and ready for Fall 2022. Fall classes and Confirmation 10-16/ join LAFF
September 29, 6:30 pm - Class at Church
October 16, 1 pm - Confirmation at St. Joseph's, Fr. Szews officiating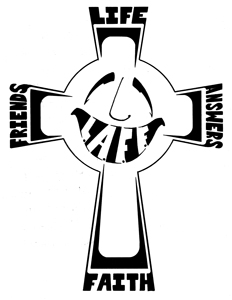 Information coming soon.

The LAFF group is a place for our 11th and 12th graders to discuss real life issues, search the Bible and Church teachings for answers and have fun! It's a group that wants to grow in their Catholic faith, hang out with friends, eat and be a part of other activities that involve Life, Answers, Faith and Friends! Join us anytime!