Due to the cancelation of school today, the Senior Gathering Place Grand Opening/Open House has been moved to tomorrow (Wed).  It will be at the same time, 10am-3pm at the Intermediate School, enter through outside door #5 (north door between football field and school).
read more
St. Joseph's annual Fall Festival will be on Sunday, 18 September 2016 from 11 am to 4 pm.  Lots of fun activities and delicious food for everyone!  We will also have an Euchre tournament on Saturday, 17 September starting at 5 pm.  Please see the flyer for more information. 2016_StJoesFallFestivalFlyer_6.24.16
read more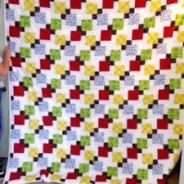 Our very own St. Joseph Parish "Stitchers" have some fabulous quilts for sale.  They make great gifts for graduations, weddings, etc.  Send your child off to college with a nice hand made quilt stitched with love by our stitchers!  They are also looking for new members to join them on Tuesday mornings.  No sewing experience required. They will teach you. Please contact the Parish Office at 715-262-5310 to join or for more information on the quilts.
read more
An updated printable calendar for Religious Education for the 2016-2017 school year has been posted on the Religious Education page.
read more