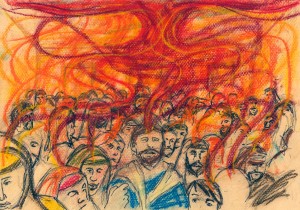 FEAST OF THE BODY AND BLOOD OF CHRIST
3 June 2018
Homily
I'm not sure if you've heard about it, but 2/3rds of the German bishops have voted to allow
non-Catholic spouses to go to communion.
Well, there has been something of an uproar over their decision.
The Pope has called their leadership to the Vatican to talk about it.
This question of who goes to communion is really always around.
During elections some bishops have urged priests to withhold communion from politicians.
Cardinal Burke disallowed a whole parish from going to communion
because they wouldn't give him control over their endowment.
The question has been around for a long time.
Some argue that Jesus never set conditions.
He fed the multitudes and none of them had to pass a litmus test before they were given
from the multiplied loaves and fishes.
He fed his disciples, Judas was there and depending on which version of the story
you want to believe, Jesus didn't deny him.
Others of course argue that there are laws and if you break the laws,
you should not present yourself.
If you don't believe everything I or the guy in Rome believes, you don't have a place here.
I would argue that more than conditions for communing,
there are expectations if you do commune.
Those expectations come straight from Jesus,
As they are found in Mark's gospel:
"Whoever wishes to come after me, must deny himself, take up his cross and follow me."
Mark 8.34.
"Whoever wishes to be first must be the servant of all."
Mark 10.44
"Love God; love your neighbor as yourself."
Mark 12.30-31
So, sisters and brothers we come to this table for nourishment to be changed into what we receive: To deny ourselves and follow Christ,
To serve more than our own needs.
To love God above all else, and our neighbor as ourself.
If you come to this table, we will meet doing these things.